kleiner kommunikation
CH - 3001 Bern
max@kleiner.com

Download of updated Version
of Sessions at
EKON 2012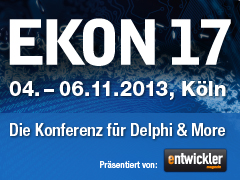 • Song of 2014
• Arduino maXbox Screenshot
• Security News
• Datenschutz aktuell
• UML 2.0 Praxisbuch
• Vergleich Prozessmodelle
• Object Management Group
• DUnit Testing
• DLL+ Technik
• Liste UML Tools 06
• Download Mirror Site
• Download Section
• Kylix News

Project Management
• InterBase Knowledge
• Smart ObjectPascal WebTool
• UML V-Modell/Hermes
• Pascal Lehre 96
• Die Entwicklerschule 2014
• Support in IT-Security
• Training in UML
• Neukuehl Epoch and 50!

Magazine
• Delphi Game World
• Blaise Pascal Mag
• Download-Surprise
• Das Linux-Magazin
• Delphi Tutorials
• Big Pattern Poster
• The Delphi/Kylix Magazine
visits:

since 1998/2012
tec training, engineering & consulting
kk-news
Modified: 09.10.2014

Programming «OP» in maXbox3!



Mobile Development with Script Engine V3.9
«Start Programming in a Case Study»


Rails: 57 Years TEE

Machines of Trans Europ Express in Time and Space »

DelphiWebStart(DWS) sourceforge.net

Application Loader OpenSSL Support, DWS V1.9

UML Training 2014

Course includes 2 Day-Workshop with case study and alike diagrams.
Topics are Patterns and Refactoring
IT-Architecture
Sound, stable, typesafety and powerful software with ObjectPascal.
Das SOA Pattern RemoteDataService einsetzen und mit avERP Open Source ERP ausbauen. Entwickler Serie mit OpenLDAP, OpenSSL, OpenVPN und OpenGL, Tutorials Start with Programming 2010
C/S Framework with InterBase ClientDataSets; A Programingmodel with the topics of Documanagement, Blobs UD Functions and Web Access.
Software Architectur in a class based service layer and a physical tier pattern...
Partnerships
Maps, GPS and Delphi
Webdesign, Teaching and Database Backed Websites
Pascal Gamer Magazine is a free Source of Game Programming
Developer's Knowledge Base
All about ObjectPascal and a well based Portal Forum
Free Pascal is a 32/64 bit Pascal compiler. Available for different processors: Intel x86, Amd64/x86_64, PowerPC, PowerPC64, Sparc, ARM!
Lazarus is a Delphi compatible cross-platform IDE for Rapid Application Development.
softwareschule.ch
PascalPower &
Systems



Tool of 2014: Delphi XE7 for Win32, OS X, 64-bit
Quote of the net: Shrinking mankind to 1:87, would solve energy problem by model railroad...Slow down!

email max@kleiner.com